1962
At a public meeting in Wee Waa on the 30th October 1962, a small but determined group of grower and excited towns people met to discuss the concept of a commercial cotton enterprise in the Lower Namoi Valley. The idea of a growers co-operative was widely applauded and Namoi Cotton Co-operative Limited was incorporated as a Rural Society under the State Co-operative Act on 1st November, 1962. Paul Kahl was one of the founding members of the Namoi Cotton Co-operative Ltd and he was the first Chairman elected to the Board.
1963
The first bale was ginned at the new Namoi gin at Wee Waa in May 1963.  The Wee Waa Gin was officially opened by the NSW Premier, Mr J B Renshaw.  The State Member for Barwon, Mr Geoff Crawford, left, is pictured with Co-operative chairman, Paul Kahl.
The new gin processed 1,413 bales from 433 ha.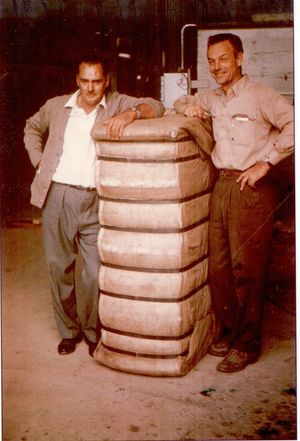 1965
In 1965, with the expansion of cotton growing in the area, the Wee Waa ginning facility was upgraded to a four stand gin.
1966
Ben Dawson took the helm of the Board of Namoi Cotton Co-operative Ltd in 1966 in the footsteps of Paul Kahl.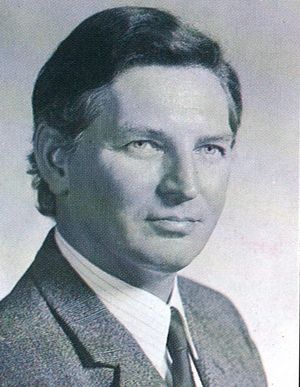 1966 was a notable year in that it was the first full year that the co-operative had employed the services of a Full time General Manager. John Howes was appointed to take the previously direct management responsibility away from the Board members.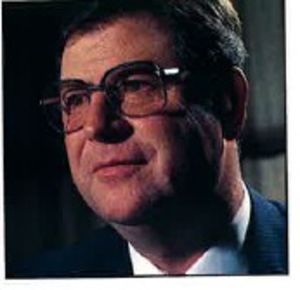 Merah North Gin was opened by NSW Premier Sir Robert Askin.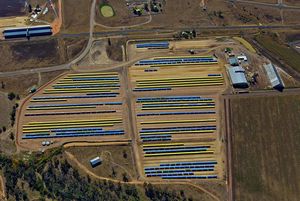 Myall Vale Gin opened by NSW Premier Sir Robert Askin

1967
The first exports of co-operative cotton had commenced in 1967–68.   By 1968–69, exports totaled more than 22,000 bales.
Growers attended a meeting to form a body to provide pure seed for planting to growers and maintain quality breeding standards. This body was called Cotton Seed Distributors (CSD). Namoi Cotton was in full support of this initiative, and along with Auscott, agreed to underwrite the company.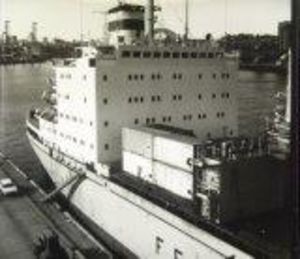 1968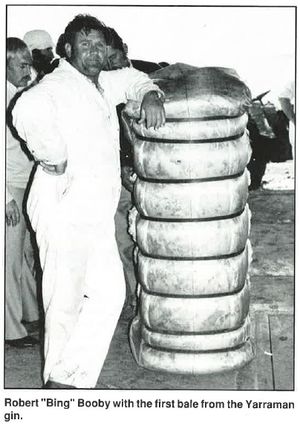 1969
Yarraman 6 Gin opened
Myall Vale facility was expanded to four stands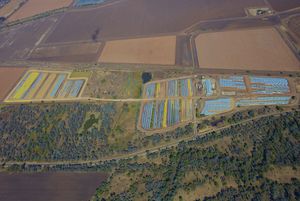 1970
John Whitechurch and Gordon Hardman with the 100,000th bale processed at the Wee Waa Gin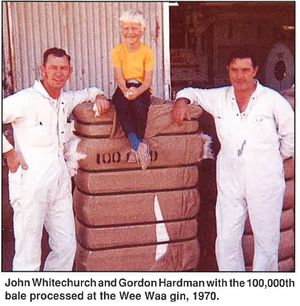 1971
An important outcome of the severe flooding of the 70's was the establishment of flood mitigation levees which protect cotton growing areas.
The industry was dealt a severe blow with the 1971 floods, with crops being decimated. Flood waters remained in Wee Waa for 21 days and in the outlying areas even longer. In the wake of this disaster, Namoi Cotton fought for, and, negotiated financial assistance for its growers to assist them in the recovery from this disaster. Only 20,000 bales were harvested during this season. Production from the co-ops gins rebounded in 1972 reaching 97,712 bales from an area of 17,000 hectare.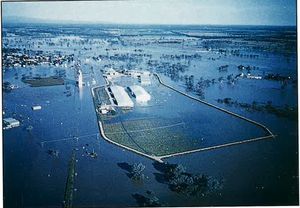 1972
Production from Namoi gins totaled 97,712 bales from an area of 17,000 ha.
In the following 10 years the co-operative and the industry faced a host of problems; flooding, insects, adverse currency movements and the removal of the cotton bounty price support system. The stability offered by the co-operative, provided the necessary platform for the industry's future.
1973
Lower Namoi Valley cotton was sent to China.  Negotiations for the sale of 16,000 bales of cotton were completed after General Manager, John Howes and representatives of China National Textile Import & Export Corporations concluded their discussions. The contract was worth $2.3 million. It was the first major sale of Australian cotton to China.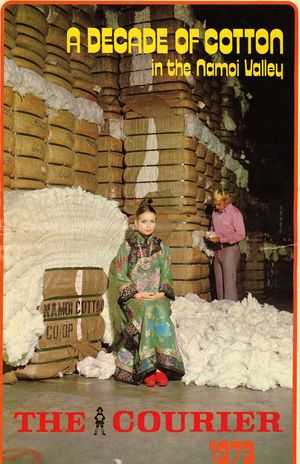 1978
Namoi Cotton went on to address the recurring problem of hail damage and with the help of Namoi Cotton's insurance brokers, a hail insurance scheme was launched. With other interested parties Namoi Cotton formed a pesticide committee to co-ordinate the aerial application of pesticides.
Another innovation in the 70's was the introduction of machinery loans to members who had survived the flood years and desperately need to re-equip with the latest cultivation and picking machinery.
1979
Namoi Cotton also acknowledged the need for ginning facilities in the Gwydir Valley as the industry gained expansion momentum in neighbouring river valleys and a site was chosen at Ashley. The original gin at Wee Waa was moved, and this became the first gin in the Gwydir Valley, officially opened in 1979 by the NSW Treasurer, Hon. J.B. Renshaw, AC, MP.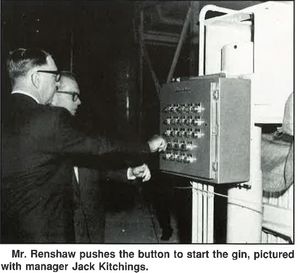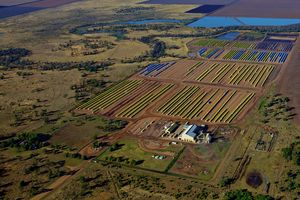 1980
A $1.2 million rail siding and container loading facility was built at Wee Waa to handle cotton for the growing export trade out of Wee Waa. This facility was instrumental in providing the platform for step growth in Australian cotton exported to world markets. In 1979-80 the cotton export number reached 125,000 bales from a total production of approximately 170,000 bales.
1983
Merah North Gin underwent a rebuild from a 3-stand to a 4-stand gin
1984
MacIntyre Gin was built in Goondiwindi. It was officially opened by Sir Joh Bjelke-Petersen on the 28 June 1984
1985
Moomin Gin was built at Rowena and was officially opened by the Premier of NSW, Neville Wran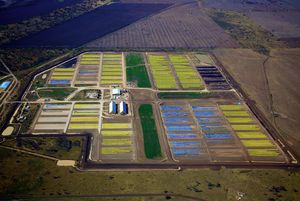 1986
Continued growth resulted in the construction of a warehouse and container shipping complex at the MacIntyre site
Construction of a classing facility at Wee Waa was undertaken and included the installation of HVI equipment
6 extra sheds were constructed at the Wee Waa Warehouse site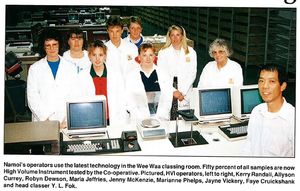 1988
Ron C Swansbra became the third Chairman of the Namoi Cotton Co-operative Ltd Board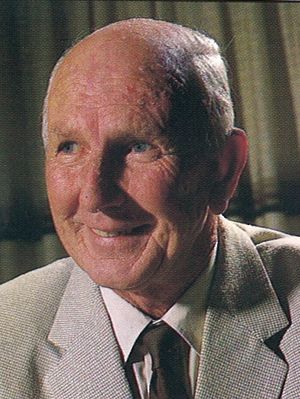 Wathagar Gin, west of Moree was built by Namoi Cotton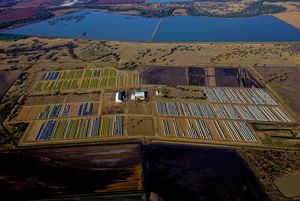 Mr Alan Rimmer replaced Mr John Howes as CEO of Namoi Cotton.

1989
William B Findley became the fourth Chairman of the Board for Namoi Cotton Co-operative Ltd
May of 1989 saw a Corporate Office established in Sydney by the co-operative, becoming Namoi Cotton's first office outside Wee Waa. The office slowly grew to include the Export Sales and Documentation, Accounts, Finance & Treasury departments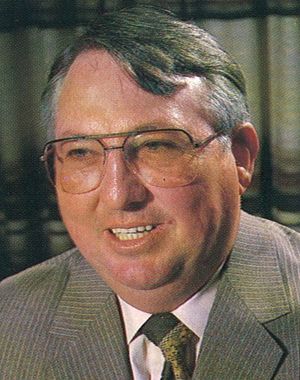 1990
Ian Hunt became the fifth Chairman of the Board for Namoi Cotton Co-operative Ltd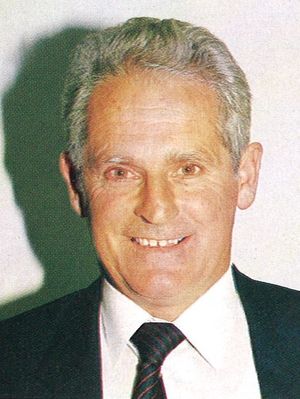 1991
Namoi Cotton took on their first scholarship student, Jeremy Callachor.  Jeremy was chosen because of his academic attainments as well as community involvement
A second gin at MacIntyre was built
The Australian Cotton industry was the first rural industry to undertake an environmental audit

1992
David Turner became the sixth Chairman of the Board for Namoi Cotton Co-operative Ltd
Mungindi Gin was opened
Namoi Cotton Co-op Ltd celebrates 30th Anniversary and launches a new logo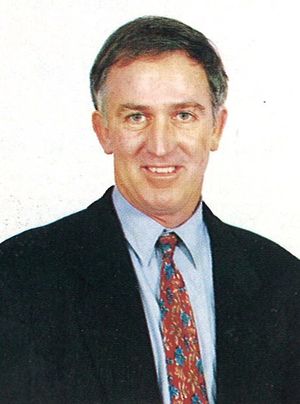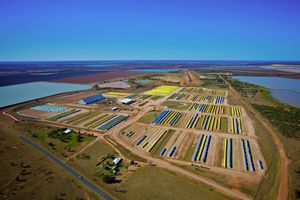 1994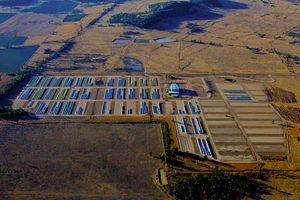 1995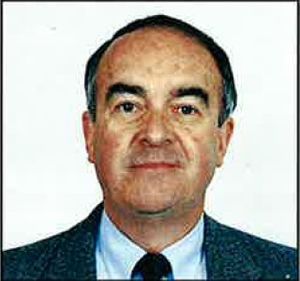 1996
Jeff Carolan becomes seventh Chairman of the Board
Stuart Boydell becomes eighth Chairman of the Board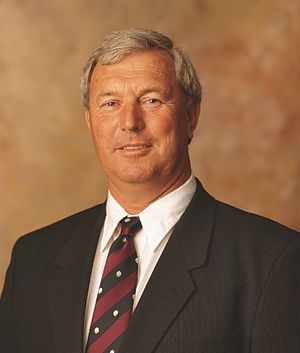 1997
Robert Bell was appointed as Deputy CEO of Namoi Cotton Co-operative Ltd
1998
Namoi Cotton was the first Co-operative to be listed on the ASX
Ashley gin underwent a rebuild.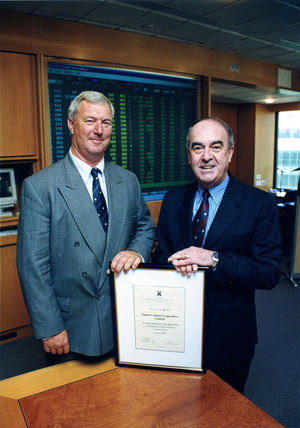 1999
10 millionth bale was ginned at Ashley Gin
Trangie Gin was built and opened
In 1999, Namoi Cotton acquired Cotton Trading Corporation (CTC). This acquisition resulted in Namoi Cotton becoming the largest marketer of Australian cotton in the industry
Namoi Cotton also added to its ginning network capacity in this year with the acquisition of the Carinda Cotton Gin and commenced construction on the Hillston Gin to further expand their ginning network
In the 1999 season Namoi Cotton ginned a then record 861,212 bales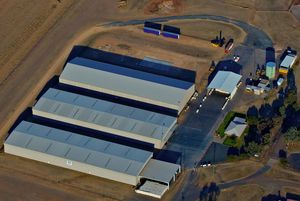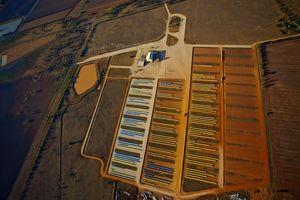 2001
Acquired 6 cotton seed storage sheds located adjacent to a number of our gin sites providing a strategic marketing advantage enabling access to containerised seed markets.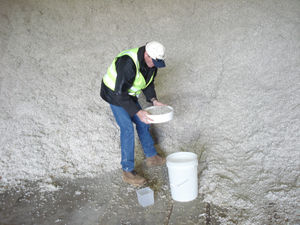 2002
Namoi Cotton celebrated 40 years
National Winner of the NCSA/Telstra Award for Excellence in Occupational Health and Safety
2002 NSCA/Telstra National Safety Award of Excellence for 'Best company Wide Occupational Health and Safety Training Programs'
In February 2002, Namoi Cotton and the Twynam Agricultural Group entered into a joint venture to operate ginning facilities in the Lachlan and Murrumbidgee Valleys. The joint venture was known as the Australian Cotton Ginning Company and operated the Hillston Gin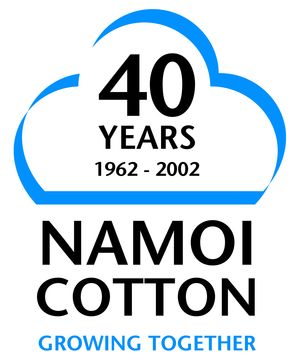 2003
In January 2003, the independent classing company known as Australian Classing Services (ACS) was established as a joint venture between Namoi Cotton and the Twynam Agricultural Group. ACS provides classing services to the Australian Cotton Industry
In February 2003, Namoi Cotton and Australian Food and Fibre Ltd entered into a joint venture to operate ginning facilities in the Ashley region near Moree. The joint venture was known as Ashley Ginning Services (AGS) and operated the Ashley Gin
Namoi Cotton opened their office in Jakarta
The Corporate Office in Sydney was also relocated and consolidated to Toowoomba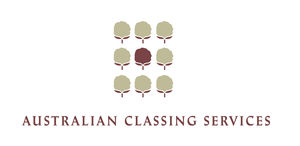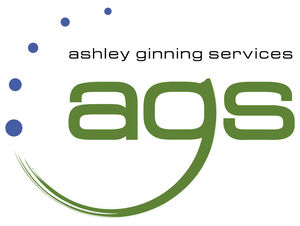 2004
In February 2004, Namoi Cotton and Sundown Pastoral Co Pty Ltd entered into a joint venture to operate ginning facilities in the Gwydir region. The joint venture is known as the Wathagar Ginning Company (WGC) and operates the Wathagar Gin
In June 2004, Robert Bell became CEO of Namoi Cotton Co-operative Ltd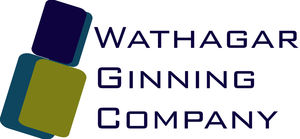 2005
In July 2005, Queensland Cotton Holdings launched a takeover approach for Namoi Cotton.  The bid of $109 million was unanimously rejected by the Board. The Board felt that the offer significantly undervalued Namoi Cotton's position as one of the leaders in the Australian Cotton industry while also reducing competition and grower participation in the Australian industry. 
2006
Queensland Cotton formally withdrew their takeover bid for Namoi Cotton Co-operative Ltd
Namoi Cotton Co-operative Ltd wins NSW Premiers Asian Exporter of the Year Award 2005/06
In 2006, Namoi Cotton established a further ginning joint venture at Moomin with PJ Harris & Sons and K Harris, known as Moomin Ginning Company (MGC)
2007
Namoi Cotton Commodities becomes the newly formed Grain and Pulses marketing arm for Namoi Cotton Co-operative Ltd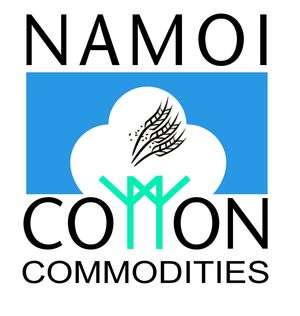 2008
In 2008, the Australian industry experienced the worst of the drought conditions with a national crop of only 600,000 bales. Namoi Cotton ginned 178,000 bales during 2008 with six of its gins not operating to any extent. Marketing volumes for the 2008 season totaled only 244,000 bales
In the second half of 2008 Namoi Cotton commenced development of its soon to be patented industry leading round module handling technology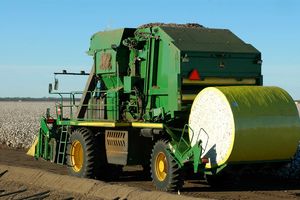 2009
Namoi Cotton established its first grain storage and handling operation at its MacIntyre site in Goondiwindi, Qld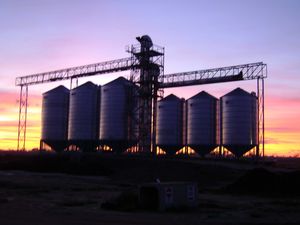 2010
Namoi Cotton established its second grain storage and handling operation at its Wee Waa site in NSW

CEO - Bob Bell passed away
Jeremy Callachor was announced as CEO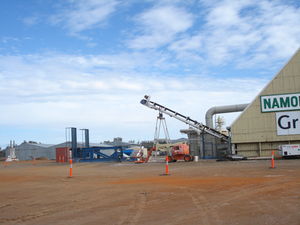 2011
In 2011, Australian cotton production reached a then record 4.1 million bales, of which Namoi Cotton ginned a record 1.258 million bales with several gins running until November 2011
Namoi Cotton Sites were hit with floods, including their Corporate Office in Toowoomba and their Moomin Gin site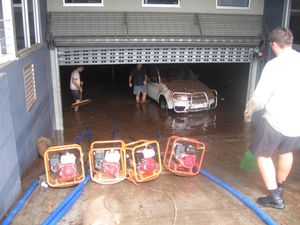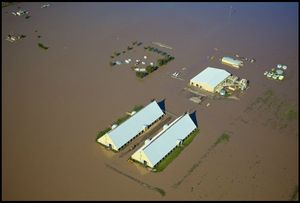 2012
Namoi Cotton proudly celebrated its 50th Anniversary growing together with the Australian cotton industry

Following a period of unprecedented cotton market price volatility from late 2010 through 2012, Namoi Cotton recorded a net loss after tax and rebate of $67.5m for the full year ended February 2012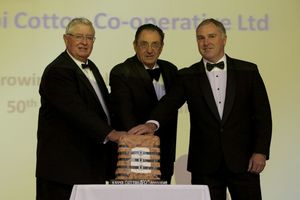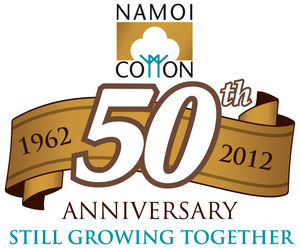 2013
Namoi Cotton completes a cotton marketing and commodities packing Joint Venture with Louis Dreyfus Commodities Group to form Namoi Cotton Alliance (NCA)
our patented automated round module handling technology seamlessly processed 80% of ginning bales in round module form
Mr Robert Green joined the Namoi Cotton Board in May 2013.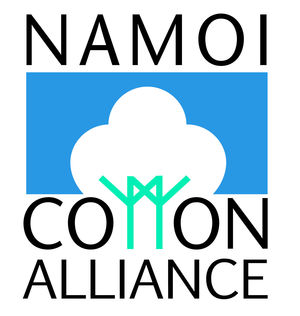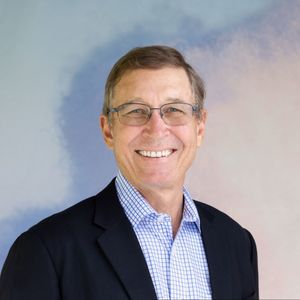 2014
Namoi Cotton refinanced with CBA following a 50 plus year partnership with ANZ
Namoi Cotton buys Twynam Agricultural Group out of Hillston Gin Facility
2015
Namoi Cotton acquired the North Bourke Gin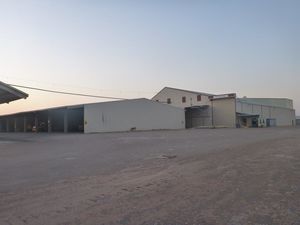 2017
Namoi Cotton Co-operative Ltd becomes a fully listed public company on the ASX known as Namoi Cotton Limited
Merah North gin yard doubled its static storage capacity and their hydraulic press system was upgraded
Boggabri gin received a fourth gin stand and associated line of cleaning and processing equipment
North Bourke gin received a third gin stand and associated line of cleaning and processing equipment
Ashley gin installed a new gin stand and associated Australian industry first cleaning equipment
2018
In January 2018, Ben Coulton retires from the Namoi Cotton Limited Board having being a Board Member since 2006
In April 2018, Mick Boyce retires from the Namoi Cotton Limited Board, having being a Board Member since 2006
In June 2018, James Jackson is appointed to fill a casual director vacancy on the Board of Namoi Cotton Limited as a Non-Executive Director
In June 2018, Juanita Hamparsum is appointed to fill a casual director vacancy on the Board of Namoi Cotton Limited as a Non-Executive (Grower) Director
In June 2018, Joseph Di Leo is appointed to fill an additional Non-Executive Director vacancy on the Board of Namoi Cotton Limited
In August 2018, Stuart Boydell resigns from his position of Chairman of Namoi Cotton Limited
In August 2018, Tim Watson is appointed, Chairman of Namoi Cotton Limited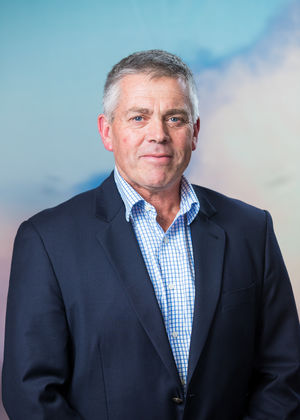 2019
March 2019, after being with the company for 26 years, Jeremy Callachor resigns from the CEO position. Stuart Greenwood, CFO, is announced as the Interim Acting CEO
In July 2019, long serving Director, Richard Anderson announced that he will be retiring as at 30 July 2019.
Michael Renehan is appointed as new CEO. 1 September 2019 was his commencement date
Bailey Garcha, Company Secretary, resigned in November 2019
Namoi Cotton welcomed Andrew Metcalfe (CPA, FGIA, FCSA, GAICD) in November 2019 as the new Company Secretary
December 2019 saw The Board of Namoi Cotton Limited announce a modernisation restructure. The restructure places relatively more grower-facing staff in the regional centres where the company does business
In December 2019, CFO Stuart Greenwood resigned. The Group Financial Controller, Mike Newbury was appointed to the role as interim CFO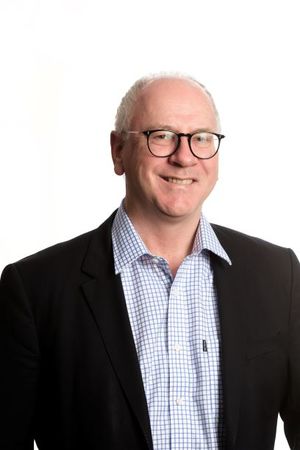 2020
January 20 saw the Namoi Cotton Board announce the resignation of Stuart Boydell. Mr Boydell had been a long serving grower representative director or the Company
June 2020 -  Ian Wilton was appointed to the Namoi Cotton Board.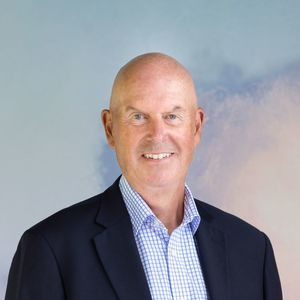 2021
Namoi Cotton Limited and Louis Dreyfus' joint venture marketing, packing and warehousing (NCA) was split into a second partnership - Namoi Cotton Marketing Alliance (NCMA). NCMA will undertake the trading and marketing of cotton lint
February 2021 saw CEO Michael Renehan leave to pursue other opportunities - CFO John Stevenson appointed as Interim CEO
June 2021 John Stevenson appointed as CEO.
Namoi Cotton introduced our four core values to demonstrate our commitment and purpose as an organisation:

Safety;
Teamwork;
Integrity; and
Excellence.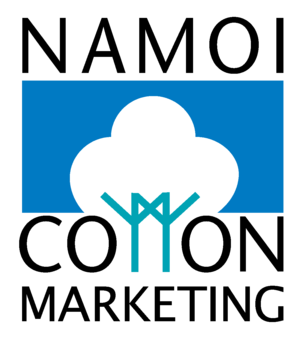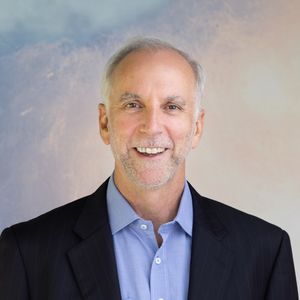 2022
January 2022 - Sonya Ryan was appointed as CFO. 
Namoi Cotton celebrates it's 60 year anniversary in 2022.