Classing
Australian Classing Services (ACS) is a wholly owned subsidiary of Namoi Cotton Limited.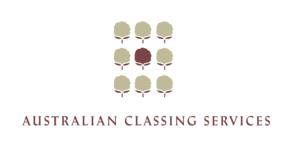 ACS provides classing services for NCMA and other third parties.
Classing is undertaken by ACS to determine the quality characteristics of each bale of cotton to be marketed by NCMA and the other third parties. The quality characteristics include colour, leaf (trash) content, staple length, micronaire, strength and uniformity. ACS undertakes this quality assessment utilising a mixture of the latest available High Volume Instrumentation (HVI) equipment and human visual testing for colour and leaf. Once each sample has been classed, the associated quality characteristics data is provided to NCMA and other third parties for use in their warehousing, selling and shipping of the lint cotton into overseas markets.
For more information on classing or to contact ACS please visit their website at www.ausclass.com.au